Session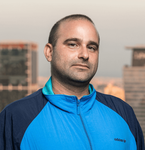 Group Manager
Melio
Zoom Out: Building A Kickass Engineering Team Remotely
Wednesday,  Mar 24 | 11:00AM - 11:45AM US ET
Level: Beginner
Building a team is challenging: a group of people won't just spontaneously come together and tackle a set of goals. And working remotely usually introduces new layers of complication and chaos.
In this talk Gad will share how at Melio, they not only survived, but thrived over the last year. 
Gad Salner has been a software engineer and manager in startups for over 15 years, but this year was forced to get creative when he joined a new startup at the peak of COVID-19 stay-at-home orders. Building a team remotely, he quickly learned, introduces a unique set of challenges
. 
Gad outlines how to build a winning engineering team and overcome remote-work challenges such as communication, engagement, development velocity, cultural gaps, and more
. 
He explains the importance of calibrating your team's efforts and processes, emphasizes the importance of high-trust communication and curating the right cultural and technical framework for your team.
What's in it for me?
Cross-team calibration: How to map and share the team's challenges and gaps
Building a team: a comprehensive plan for remotely building a team
Untethered: Taking advantage of remote-work to strengthen a cross-border engineering culture
Resolving the uncomfortable: Ideas on navigating complex issues remotely
Overview
1: How to calibrate your team
How to get clear on your team's mission, it's challenges, goals, processes, and individual responsibilities.
How to best resolve difficult complex situations, as a manager or developer
Empower your team! Be their stepping stone to a career jump
Examples
2: Building a team remotely
Bringing everybody closer together and communicating culture remotely
How to think outside the box when it comes to team culture
Creating a feed-forward cycle of improvement for your team
Developing a team framework that works remotely for everyone
Examples
3: Embrace change
How to take advantage of the opportunities that come with working remotely
Take advantage of "the new normal" to strengthen your team's bond
Examples